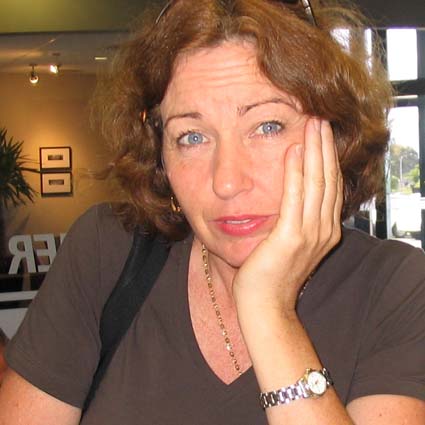 Painting since 1998 as a natural progression from previous studies in both Interior Design and Textile Design in the early 80's, my current focus is on encaustic (beeswax and damar resin).
It is an ancient and enduring technique which predates oil painting and was used by the Egyptians to decorate their sarcophagi.
I began primarily using encaustics out of a desire to use a more organic and sustainable medium. The history involving its use captivated me. The practice of working in a hot medium presents an exciting yet demanding challenge due to the constant metamorphosis of the wax via the heating and cooling process.
The hot wax is applied to a gesso ground and is built up in layers. The application of heat between layers fuses each layer to the last. Digital images are manipulated, printed, transferred and combined with graphite, charcoal and pigments in multiple layers sealed in by the wax.
The interplay between the resultant layers creates an enigmatic depth and translucency in the work, a luminosity not available through other mediums.
Image, narrative, process and chosen material all play significant roles in the metaphoric formulation of my work. The evolving vocabulary sometimes blatant or often hidden in the works are clues that give deeper meaning to the content, drawing in the viewer to question their own ethics or values. Themes of personal spirituality, world conflict, animal and human rights appear consistently in my work.
Recent works have seen a move toward the use of installation, a textile community project, ceramics, and the application of textiles in a 3D encaustic context.
I currently work and run encaustic workshops from my studio in the South Wairarapa.
Awards:
Morpeth Canaday Award 2001 - 'Best Landscape'
Telecom Art Awards 'Finalist' (BOP) 2001
Franklin Art Awards 2002 - 'Contemporary Art Prize'
Wairarapa Review 2011 - 'Highly Commended Award'
Auckland Easter Show 2013 - 'Merit Award - Small Works'
Parkin Drawing Prize 'Finalist' 2015
Paraparaumu Rotary 2016 - 'Best Abstract'
Exhibitions:
Solo
'Moonlight and Magic' - Solo Exhibition (Greytown) - 2011
Brackenridge Spa Gallery - Solo Exhibition (Martinborough) - 2011
'HOT STUFF' - Works in Wax, Cafe Deluxe (Wellington) - 2012
Wax Works - Café Baobab (Wellington) - 2012
50 Shades of Green – Lochmara Lodge (Marlborough) – 2014
'Remember to Remember' - WW1 Comemorative Exhibition

Aratoi Museum of Art and History (Masterton) - 2014
Expressions Arts and Entertainment Centre (Upper Hutt) - 2015

'Explorations' - Village Art Shop - Greytown - 2014
Group Shows
NZ Art Show (since 2009)
Artbourne - Eastbourne 2012/2016
Original Art Show - Auckland 2013
Timaru Plunket Show - 2013/15
Bijou Eliot Design – New Plymouth - 2013
Artrove Group Show - Wellington 2013
WaiArt Show - Carterton 2013/14/15/16
Life Education Trust Show - Wellington 2014
'Iti' - Martinborough 2014
Martinborough Contemporary Art Auction - 2015
Works available at:
Ora Gallery Wellington
Art Bureau - Auckland
NZ Academy of Fine Art - Wellington
Artel Gallery - Waikanae
Kina Art + Design Gallery - New Plymouth
Kotare - Greytown
My work is held in private collections in
New Zealand, Europe and the UK.
Contact Details :
0064(0)21 1886439
www.waxworksencaustics.co.nz
nickistewart@waxworksencaustics.co.nz